Belgrade Eye Hostel Belgrade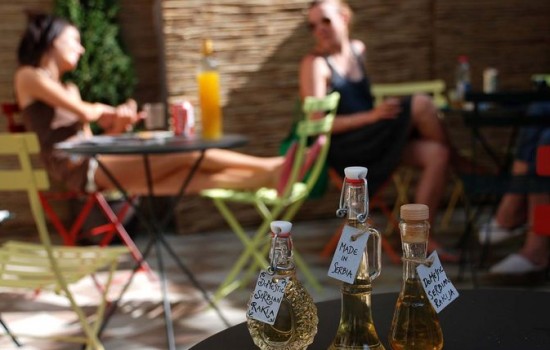 The youth Hostel Belgrade Eye is within a few minutes walking from all of the must-see site in the city center.
Cena:
0 Eur.
Cena:
0 Din.
Prvi datum polaska:
00.00.0000.
Poslednji datum polaska:
00.00.0000.
Polasci na:
dana
Hostel Belgrade Eye Location
The youth Hostel Belgrade Eye is within a few minutes walking from all of the must-see site in the city center.
6b Krunska Street
11000 Belgrade, Serbia
Thirty-second walk to ...
Serbian parliament, Belgrade City Hall, and Serbian Presidents office. Just outside our doors is the Pioneer park (Pionirski park), and across it the Federal Parliament - that infamous building stormed by anti-Milosevic demonstrators in October 2000. This is not only among the best-known symbols of Belgrade and Serbia (if nothing else, images of the building in flames traveled around the world that year) - it is also where history was made.
Kralja Milana street - a key shopping street, stretching from Slavija square to Knez Mihailova street.
The nearest exchange office, ATM, supermarket, non-stop pharmacy, post office.
Secure underground garage - located underneath the City Hall parking lot, entrance from Dragoslava Jovanovica street (small street off Kralja Milana).
The best Belgrade movie theater (Tuckwood Cineplex).
Nearest kiosk selling public transportation tickets, cell phone sim cards, public telephone cards, local newspapers and, well, other stuff youd expect to find at a kiosk.
Nearest bakery - for a taste of super-yummy Serbian pastry and sandwiches. A special treat is burek with cheese (burek sa sirom), an extra-greasy but delicious Balkan sort of cheese pie.
Five-minute walk to...
Knez Mihailova street - pedestrian zone, outdoor cafes, and brand-name shops.
Republic Square (Trg republike) - the central square and favorite meeting point in the city. Also the home of the National Museum, National Theater, a childrens theater, numerous outdoor cafes and patisseries.
Student square (Studenski trg) and, on it, the center of Belgrades youth and protest culture. Hang out with students and teachers of art history, philosophy, or literature, lay back and sip cocktails while listening to jazz in Plato club, or visit the Ethnographic Museum or the Gallery of Frescoes.
Tesla museum (Muzej Nikole Tesle)- one of the most interesting museums, located right in our street, is devoted to the work of Nikola Tesla (Serbias Thomas Edison).
St. Marcs Church (Crkva Svetog Marka), the Student Cultural Center (SKC), the Yugoslav Drama Theater (Jugoslovensko Dramsko Pozoriste), one of the best supermarkets in the city, restaurants, bars, cafes, clubs... scattered all over.
Ten-minute walk to...
The train station, and the bus station.
Kalemegdan fort and park - Belgrades main attraction, the ancient fortification at the Sava and Danube confluence. The first and most important thing to see in Beograd.
Skadarska street (Skadarlija) - the picturesque bohemian quarter, with the finest Serbian cuisine restaurants, art galleries, wandering musicians, and street souvenir vendors.
The Belgrade Cathedral (Saborna crkva), seat of the Serbian Orthodox Church, and various other historic buildings.
Directions
At just under a kilometer from the train and bus stations, the road to the Hostel Belgrade Eye should be easy walking in all but the harshest weather. Just follow our map (click on it for a larger view). The address is 6b, Krunska street (in Cyrillic, Крунска) - from Kneza Milosa (Кнеза Милоша), walk into the first car passage to the right and the house is at the bottom on the left.
From the train station: go out the main exit, cross the street and head straight up through Nemanjina (the really big street going straight uphill with trams in it). Take the second left into Kneza Milosa (also a very wide street with trolleys and buses going through; you will see two bombed buildings on the corner - your first bit of Belgrade sightseeing :-)...), and then head straight up for 5-7 minutes. The third street to the right is Krunska, where the Belgrade Hostel is. When you get into it, stay on the right side of the street and walk past numbers 6 and 6A, turning right into the first car passage (it seems to be leading to a parking lot). At the end of the passage (about 10 meters) and on your left is the Belgrade Eye Hostel.
From the bus station, the road will be the same but you will first need to follow our map to find the train station (about 2 minutes): walk through the little park right where you got off, and follow the main street one block until you see the train station (big yellow building) on your right. From there, follow the directions above.
From Belgrade Airport Nikola Tesla, either take a taxi straight to Krunska 6B (about 1000 dinars, cc. 11.5 €) or the airport bus to the train station (about 2 €) and then follow the directions above.
The whole journey is a very quick one, but make sure you ve printed these directions out and have our little map handy too. If in doubt at any point, give us a call and well run to your rescue.
Rooms
Double-bed private room
A private room with a queen-size double bed for two people. The room can be booked for one person only, but the price per room is the same as it would be for two persons. A supplementary bed for a third person can be added upon request, and the price for that bed would be lower (the same as for a bed in the dorm). The room is spacious and bright with its own balcony, and uses a shared bathroom that is located just outside the room. In Hostel Belgrade Eye, this is the room that s ideal for couples.
Twin - triple room
A private room with a bunk bed and an optional third bed for two or three persons. The room can be booked for one person only, but the price per room is the same as it would be for two persons. A bathroom is located just outside the room. Ideal for two or three people who are traveling together and would like some privacy but don t necessarily want to sleep in the same bed.
Dormitory
A room with three bunk beds that sleeps a total of 6 people - basic, but very comfortable and clean. Backpack-size lockers are provided for each person. A shared bathroom is located on the floor, four or five steps from the dormitory door. This room is Ideal for independent travelers or groups of friends. All rooms are air-conditioned and cleaned on daily basis
Sezona
Among all cheap hostels in Serbia, Hostel Belgrade Eye offers extremely favorable terms for groups and longer stays. If you would like to make a booking for more than 8 persons, or for a period longer than 1 week, please email us directly and we ll try to make you an offer you won t be able to refuse.
Room type

*November 1st
May 30th

**June 1st
October 31st

6 bed mixed dorm

14€

16€

4 bed private

14€

16€

twin/triple private

17€

19€

double-bed private

20€

22€
* except during the Christmas and New Year holidays
** except immediately before and during the EXIT festival in Novi Sad
Predsezona
Beautiful summer garden
Comfortable and fully equipped guest kitchen
Hot showers 24 hours/day
Free broadband internet access with computers in the common room
Backpack-size lockers for all dorm beds
Huge common room
Luggage room
Laundry service
24h reception
Close attention to your security - lock on each room, lockers, safety deposit box
Cable TV with international channels
Air conditioning
Free towels and linen
Hair dryers, irons, ironing board
Free coffee and tea
Free maps and guides
Restricted smoking area
Legal registration with the police
Postsezona
Cene za Postsezonu su u pripremi.